Pastor Rich DeRuyter was a dairy farmer in the 1980s, experiencing a major farm crisis. He had caught word of a radio program by Henry Vanderbush, a radio preacher, and habitually made it a part of his Sunday morning chores. Having to navigate tremendous hardship, Rich was moved by the sermon one Sunday morning as he worked in his barn. He became a Christian as he knelt next to a bale of hay.

Rich described in his book, God, a Farmer, and a Bale of Hay:

"Seconds before this bale would have landed in the heap with all the others, I found myself kneeling beside it. With tears flowing uncontrollably from my eyes, I uttered, "Lord, I give up. Forgive my sins. Take this confusion from me. Show me the way I should go.'"
Read more about our story in "God, a Farmer, and a Bale of Hay"
Only a few months later, in 1984, Rich hosted a church service in his barn, referred to as a "Barn Revival," along with
Henry Vanderbush and their spouses.

The Country Church of Ruthton was born after Bible studies turned into the desire to meet on Sundays. Rich and his wife, Fran, became the pastors of the Country Church in 1987!
In Loving Memory of
Pastor Rich DeRuyter
Pastor Rich DeRuyter was our senior and founding pastor. He resided in Ruthton, Minnesota with his wife Fran and served as Head Pastor for over 35 years until his passing in May 2021.

Pastor Rich would always invite you to visit a service with us, where the Word of God is preached with love and simplicity. He was a quiet, Godly man ready to listen to anyone who wants to chat...over a cup of coffee and a cookie of course! He is greatly missed.
Through the years, the church has moved and grown into the building right off of Highway 23 today. In 2017, associate Pastor Frank Vanderbush joined Pastor Rich in leadership. Every week we share the Word of God, community, and family inside our doors–and you are invited to join us.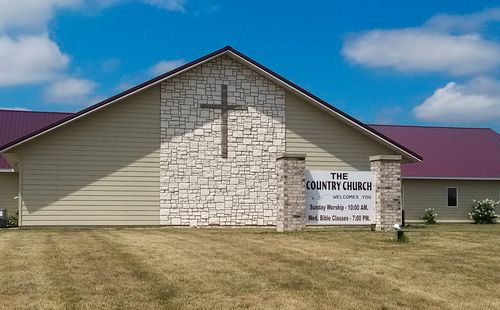 Be a part of our story...
Join us every Sunday as we gather to worship together at 10 AM